Dogs Loved Like Children Fuel Pet Insurance Sales
News from Bloomberg:
Maria Makara didn't hesitate to insure her two new dogs. That's because they're family.
Her previous pet, a Yorkshire terrier, died in 2013 after contracting pancreatitis and Cushing's disease. Makara ended up paying $ 4,000 for treatments and tests in the dog's final years. Last month she bought health insurance for her two "boys." For $ 40 a month, she insures both Jack, a white Chihuahua-poodle mix, or chi-poo, and Colby, a four-pound (2 kilogram) morkie-poo, a mix of Maltese, Yorkie, and poodle breeds.
"They're my babies," Makara, 36, said by phone from her office in New York where she works as a marketing director. "There are a lot of people like myself who have dogs and don't have children, or they're a single person living by themselves. People like me have a disposable income and they're spending it on their dogs."
Makara is among so-called pet parents fueling a $ 600 million industry in
---
Related News: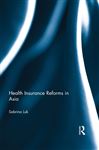 This book empirically examines health care financing reforms and popular responses in three major cities in East Asia: Shanghai, Singapore, and Hong Kong. It adopts a new revised version of the theory of historical institutionalism to compare and explain the divergent reform paths in these three places over the past three decades. It also examines forces that propel institutional change. The book provides three detailed case studies on the development of health care financing reforms and the politics of implementing them. It shows that health care systems in Shanghai, Singapore, and Hong Kong were the products of Western presence in the nineteenth century. It illustrates how greater attention is paid to the roles played by ideas, actors, and environmental triggers without abandoning the core assumptions that political institutions and policy feedback remain central to impact health care financing reforms. It shows that health care financing reform is shaped by a complex interplay of forces over time. It also provides the most updated material about health care financing reforms in Shanghai, Singapore, and Hong Kong. The central argument of this book is that health care financing reform is both an evolving process responding to changing circumstances and a political process revealing an intricate interplay of power relationships and diverse interests. It shows that institutional changes in health care financing system can be incremental but transformative in nature. It argues that social policies will continue to develop and welfare states will continue to adapt and evolve in order to cope with new risks and needs. This book sheds new lights on understanding the politics of health care financing reform and sources and modes of institutional change.
List Price:
Price: